There are two types of marketing. These are everyday or campaign.  Everyday marketing is the birthday greetings, client appointment reminders, new client welcome message etc. Campaign marketing is the one off special campaigns like Mothers day or Easter. 
Before you start there are a few things you need to decide first:
Is it everyday or campaign?
Who will you send it to?
What will be the message?
When will you send it?
How will you send it (email, text, post etc)?
Think about the conversations you want to have with your clients on an ongoing basis. Schedule these messages in Everyday marketing and relax. let Kitomba do the work for you. Everyday Marketing automatically sends your lapsed clients appointment reminders, birthday wishes, thanks for referring a friend and more. 

Setting up Everyday Marketing
1. Go to the Admin tab

Once you have set up your message template go to the everyday marketing section in the Admin tab.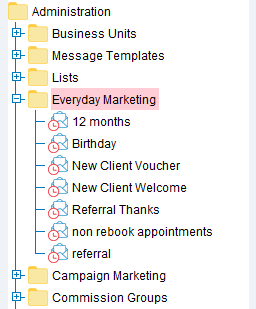 3. Select Create on the top right to create a new message.


4. Enter a Name in the Name field. This name is what you want to show in the Everyday Marketing List in the left hand side menu.

5. Select the date you want this message to be sent out from the drop down box and when you wan this message to send.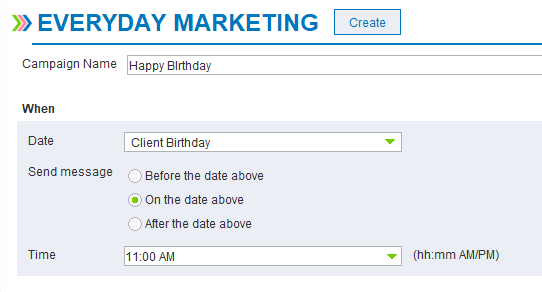 6. Select who you want this message to go to. 


7. Select the message template you require using the drop down box 

8. Select how you want to send it by clicking on the option and selecting Add (Email, text, post or a combination of these). You can order these by preferred options using the move buttons.

For Post messages
If you have selected Post as one of the delivery methods you will need to print these messages (or mailing labels).
Go to the Reports tab and click on one of the following reports to do this:
• Messages for Printing (1 per page). This report prints out one postal message per page with the clients address located correctly for a standard window envelope.
• Messages for Printing (3 per page). This report prints out three postal messages per page in a post card format (three post cards to one A4 sheet). If using this format, message should be a suitable length to fit in the space available.
• Mailing Labels - Messages. This prints out a mailing label for each customer receiving a postal message that is suitable for a variety of postal items.