This report shows the stock value as at todays date. The report includes the product cost sales margin, the category and the product type.
Note: This report will not include stock with a 0 quantity on hand. 
1. Select the Stock value report from the reporting tab.

2. You can group by supplier or by category.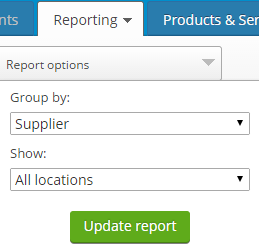 3. Select the group you wish to view and select the update report button  to show your selection.
4. You can expand the selection using the + at the left hand side of screen. 
5. You can export to excel or print the report as required using the 

 button on the top left hand side.