Kitomba's Xero integration allows you to reconcile your cash drawer to Xero.
Note: We recommend reconciling your cash drawer at the end of each business day to ensure that the payment amounts recorded are accurate.


1. Open the Cash drawer reconciliation report in the Kitomba Reports tab.


2. Choose the date of the cash drawer you're reconciling and select 'Execute'. A window will pop up detailing the expected payment amounts based on the committed invoices on this date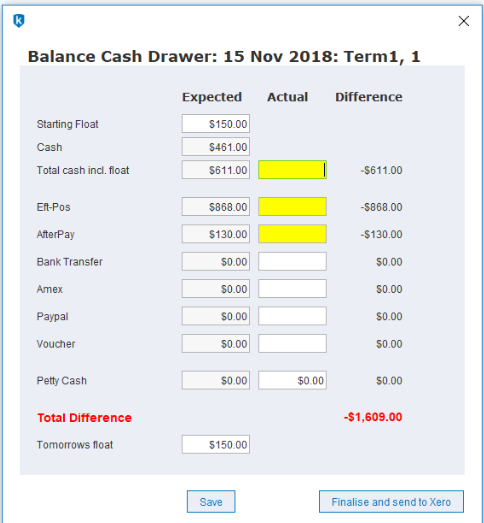 3. Count the actual money you've received:
the cash in your cash drawer.

the vouchers redeemed.

settle electronic payment types like EFTPOS and Visa. 

4. Enter the total values into the Actual fields of the applicable payment types. As you enter values into the Actual fields the 'total difference' amount will update.
If you've counted correctly and you've received what Kitomba knows you've invoiced, the total difference will be $0.00

5. When your cash drawer is balanced and the total difference is $0.00 you're ready to send your cash drawer reconciliation from Kitomba to Xero. To do this click the Finalise and send to Xero button.


6. Kitomba will now send your cash drawer reconciliation to Xero. You should be able to see this in Xero within 15 minutes.