The Business Summary report gives you a snapshot of your business statistics. This guide explains what each section means and how it has been calculated.

1. Select the Reports tab.

2. Select Business summary from the list on the left hand side. Fill in the drop down boxes with the info required, the dates you want and click execute.

Here is an example how your report should look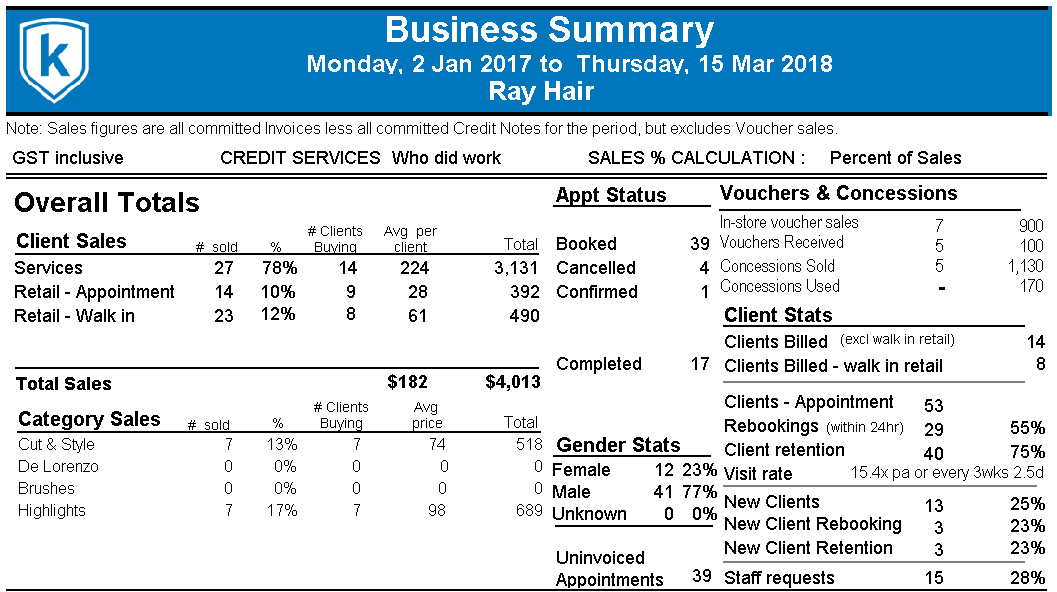 Client sales:


Services: Records sales of everything in your Kitomba that has been classed as a 'Service'.

Retail – Appointment: shows sales of retail where the customer has also purchased a service (i.e. they have come into the salon/spa for an appointment and have purchased retail at the time the service was checked out).

Retail – Walk in: this shows sales of retail where the customer has not purchased a service, in this case the customer has only come to the salon/spa for a retail purchase and has not had a service.

# Sold: this is the total number of items sold. If one client buys two retail products or has two services (e.g. cut and colour or facial and massage), this is recorded as two items.

%: you can control the way this is calculated from within Kitomba preferences. The options are:

Percent of Clients – this takes the number of clients billed and divides it by the number of items sold. As some clients buy two or more items this percentage can exceed 100% (i.e. if you bill 100 clients but they purchase 150 services then the % will be 150% - an average of 1.5 services per client).

Purchase Rate – this takes the number of clients who purchase a particular type as a % of the total number of clients you have billed (i.e. if you bill 100 clients and 30 of them buy one or more retail items with their appointment then your retail purchase rate will be 30%).
Note: the two above % are calculated differently for the walk-in retail line. They use the number of walk-in clients billed (i.e. if you sell 100 retail items to 50 walk-in retail customers, the % of clients will be 200%).

Percent of sales: this takes the amount of money you have made from the particular area as a percent of your overall takings (i.e. if you make $900 from services and $1000 overall then 90% of your revenue is from services).

# Clients buying: this shows the number of clients who bought an item of this type. The numbers for 'Service' and 'Walk-in Retail' are the same as the numbers on the right hand side under 'Clients Billed' and 'Clients Billed – walk in retail' found under Client Stats (i.e. if one person comes in for two separate visits and two different bills are created, they are counted as two bills.

Avg Per Client: this is the average amount each client billed spends in the category. It is calculated by spend in the category divided by the total clients billed (excl. walk-in clients). Because these are averages, it is not expected the three figures will add up to the figure in bold under total sales.
Note: the walk-in client average is the average spend for walk-in clients only. It will almost always be higher than appointment retail because, by definition, every walk-in customer buys retail, whereas only some service clients buy retail). 

Category Sales
You can show up to six categories in the Category Sales area.

To add a category to your list:
1. Go to Cards tab.


2. Click on the working with categories icon:


3. Click on the category you want to add to your business summary.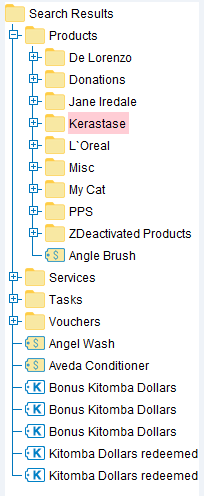 4. Click the box to tick the show on business summary


5. Click Save
The calculations here are similar to Client Sales. The one difference is we have Avg Price here rather than Avg per Client.
Avg Price: this is the average amount spent on each item from these categories (i.e. if you sell 100 chemical services for $10,000, the average price of that chemical service would be $100). If you prefer to know what the average spend per customer is, you can divide the total by the number of billed clients on the right of the main report.
Note: if you need more detail on more categories you can find this information in the Sales Analysis or Sales breakdown by staff and category reports.

Vouchers – Sales and Received

By default Kitomba expects accrual accounting, thus the sale of a voucher is not included in your total sales figures. The sale is effectively added in when the voucher is redeemed. This prevents double counting of voucher sales and ensures staff will get rewarded for services if paid for by voucher. If you prefer cash-based accounting and need to count the voucher when it's sold, you can add the voucher sales figure to your total sales then minus the vouchers received figure. More detailed voucher information is available on the voucher reports – Voucher Statistics and Voucher Trace Report.

Client Stats
This area shows information about the clients' themselves. Most of the figures are based on your appointment book.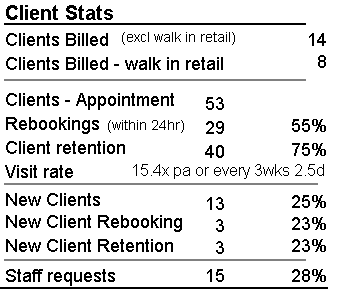 Clients Billed: this is the total number of client bills. This number is used to calculate many of the averages and percentages in the sales sections above. This figure excludes walk-in clients. If one person comes in for two separate visits and two different bills are created, they are counted as two client bills.

Clients Billed – walk-in retail: a walk-in bill is one where there are only Retail items and no service items. This indicates the client didn't come into the salon for a service (appointment) but just walked in off the street and purchased a retail product. A walk-in bill could be for a casual customer, or for an existing customer who usually gets a service, but in this case has just popped in to buy some retail.

Clients Appointment: this is the number of appointments within the period. If one client comes in for two or more services in one day this is a single appointment, but if the same client comes in for two different appointments on different days, these are two appointments. This number will often be higher than the business summary or you can run the Appointments – Un-invoiced report for details of these. Due to multi-service appointments and the ability for an appointment to have more than one status, it is possible that the total of all the different statuses in the center of the business summary adds to a higher number than client appointments. This is normal and does not indicate any calculation problems.

Rebooking (within 24hr): this is the number of clients who have rebooked a future appointment. If the future appointment was made at the time of the original appointment then it is counted as a rebooking otherwise it is retention (see below). A 24hr cut-off is used to cover instances when the client needs to pop home, check their diary and rebook their future appointment.

Client retention: this is a measure of the clients who are actually coming back to the salon/spa. It doesn't matter if they rebook or if they received marketing material and decided to make a new appointment or if it just took them a few days to decide to come back. This number will be higher than rebooking but has a more direct impact on your revenue.

Visit Rate: The visit rate is the average time between client visits. It is shown as a number of times per year, and the number of weeks between visits. For example, if the average time between visits is 26 weeks, you could expect the client to visit 2x per year.

It is calculated by taking everyone who has an appointment in the time you ran the business summary for and then looking back to their previous appointment. It then takes the time between the last appointment and the one in the range and averages the total. If they are a new client (and so have no previous appointments) then they are not counted, as well as if they have not come in the last six months or if they come at a high frequency (daily).

New Clients: these are your new clients within the period. 

New Client Rebooking: this is the number of new clients who have rebooked. New Client Retention: this is the number of new clients retained.