The Cash Drawer Reconciliation report provides you with the opportunity to ensure your cash drawer balances. We recommend that you reconcile the cash drawer at the end of everyday.  

Reconcile your cash drawer
1. Make sure you have counted all the cash, any Eftpos receipts, vouchers and cheques received for the time period you are reconciling. 

2.   Go to Reports tab: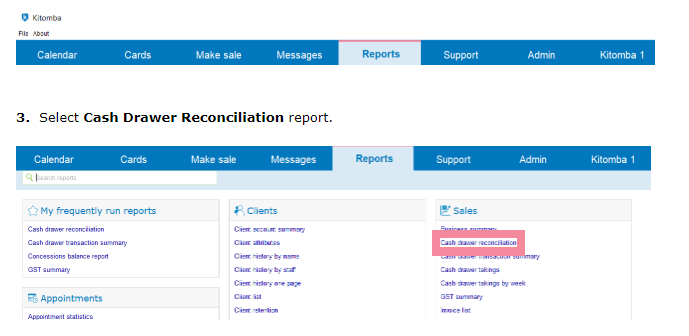 4. Enter/select the date you want to reconcile and select execute.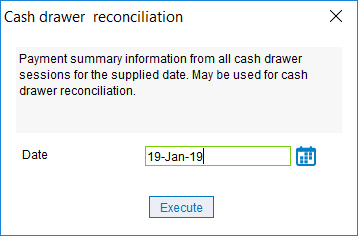 The
Balance Cash Drawer
will pop up. 

4. To complete this 
your starting float will automatically appear from the previous day – or you can enter it now;
enter the actual totals in the yellow highlight fields. 



5. When you select the yellow box for 'Total Cash', a second pop-up appears.
You can either enter the actual cash amount directly at the top or select the number of notes and coins you have below and the amount will be calculated for you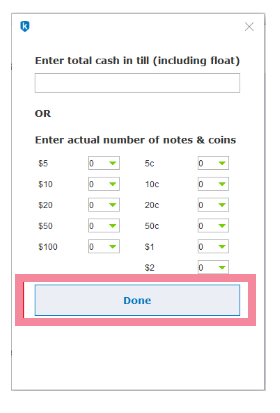 6. Click Done when you're finished. 

7. Enter in the other payment types received.  
If it is balanced Total Difference will show as $0.00 or will show in red if it doesn't.
What if it doesn't balance
1. If your cash drawer reconciliation isn't balancing, check the following:
Have you counted all the cash correctly.

Have you checked all the Eftpos receipts.

Does the amount on the receipts equal what was charged on the Invoices?

Has the correct invoice amount been entered into the Eftpos machine. 

Has your petty cash been entered into Kitomba?

Finalise the reconciliation
1. When you are happy that this is the final balance for the day select Finalise,

or if you have setup Xero integration select the Finalise and send to Xero button. (This is available for trialists only at this stage).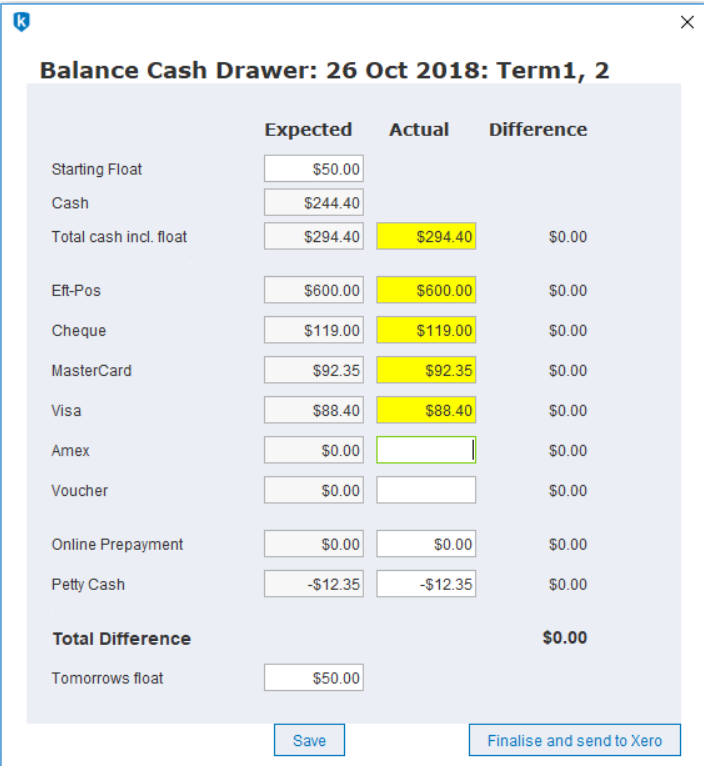 Notes: 
The Finalise and send to Xero button will complete the cash drawer reconciliation and send to Xero. This could take a few minutes but the status at the bottom of your cash drawer reconciliation will confirm once it's been sent.
Selecting the Save option will save your reconciliation but will not finalise it or send it  to Xero.
You can select the Save

button to save the reconciliation at any time and return to make changes as needed.

Only Finalise and send to Xero when you are completely happy with the balance. 
When your cash drawer reconciliation has successfully sent to Xero, the invoice will appear in Xero (in Sales -> Accounts -> Invoices -> Paid)

Reopen the cash drawer reconciliation
Sometimes you need to reopen the cash drawer reconciliation. This could be because you have found an error or need to correct an error. 


1. Select the Reopen button and continue as above.