Now when your client s unsubscribe in MailChimp the Accepts Promotions flag will be turned off in Kitomba.

1. To unsubscribe from MailChimp clients must select the Unsubscribe link in your MailChimp emails.

When this is done Kitomba will automatically untick Accepts Promos


2. When a client unsubscribes Kitomba One will automatically default Send promotions to No.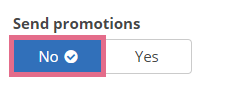 Note: When this happens, Kitomba will:
No longer include these clients in client lists created to send marketing campaigns in MailChimp or Kmail.
No longer send these clients everyday marketing campaigns via Kmail or text message.
<<end>>