Kmail's Home page is divided into two sections: Campaigns and Templates.
Once you have made a template and sent it through Marketing in Kitomba it is then referred to as a Campaign and you can review the Campaign Report by clicking on the Kmail name. 
You will get a report that shows the below.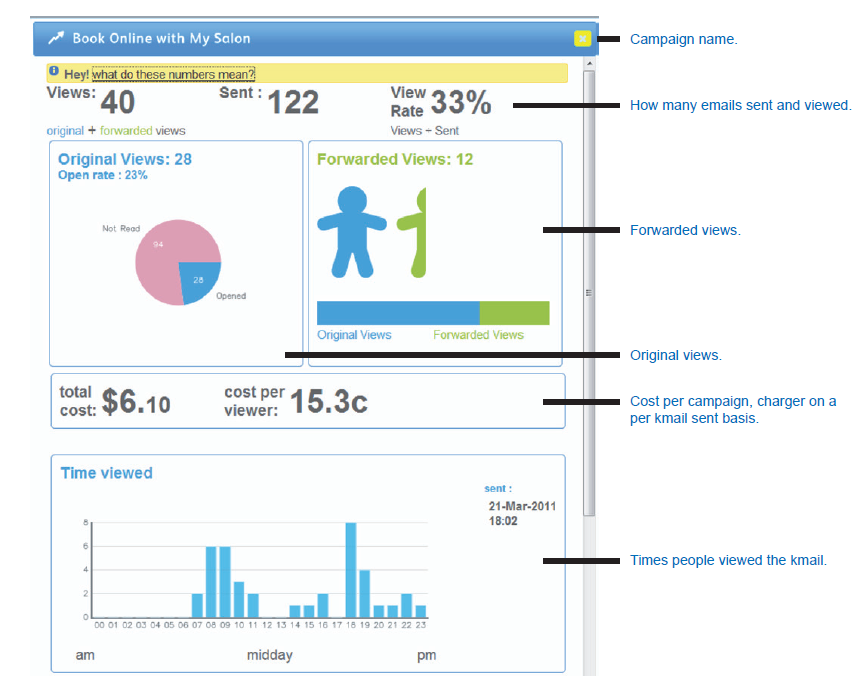 What this data means 

Success rate
This is the number of views divided by the number of emails sent. If you get more unique people viewing your kmails than you originally sent out, this will give a success rate of higher than 100%. This can happen when kmails are forwarded on.

Original views
This is the number of kmails opened from the original amount you sent for a given campaign. For example, if you sent 100 kmails out, and 80 addresses opened them, this is the 'original views' number.

Open rate
The percentage of your original kmails sent that were opened.

Forwarded views
These are the views from people you didn't originally sent too, i.e. - from forwarded emails. The blue figure represents the original people you sent the campaign to who viewed it. The green figure portion represents the forwarded views, the more area of green coloured in - the more forwarded views of your campaign. The bar underneath shows the ratio of original views to forwarded views. If there are no forwarded views- it's all blue, if there are some forwarded views, a percentage will be coloured green.

Time viewed
This graph shows what time of day the kmails were opened.

Date viewed
This graph shows what  date the kmails were opened from the date you sent them. The duration of the graph is one week.