Using the campaign marketing feature in Kitomba is a great way to reach out to your clients. You may want to reach out to lost clients, promote any specials you have or keep clients up to date with any changes to your business.
Creating the campaign
1. Select the Admin tab.

2. Select Campaign Marketing from the list on the left.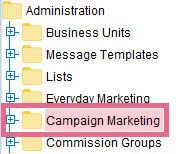 3. Select Create.


4. Enter the name of your campaign, and select the date and time you want it to be sent. It must be at least 60 minutes from the time you save the campaign.


5. Select the list of clients you want to send this campaign to from the drop down box. There are two default lists that can be used, or you can create your own by saving client lists from the Reports tab.


6. Select the message template you want to use. New message templates can be created under Message Templates in the Admin tab. See our guide to learn how to create a Message Template.


Note for text message campaigns:
Texts have a maximum character limit of 160. If you want to include your Online Booking link in the message, you may want to shorten the URL using a link shortener like bitly.com
7. Choose how you would like this campaign sent by selecting Text or Email and selecting Add to move it to the box on the left. You can add a second method so your campaign can still be delivered to clients that do not have a mobile number or email address. You will need to make sure you have content in both the text and email template you have selected.

8. Once you have selected all of the above, click the Save button. A pop up will appear to summarise who the campaign is being sent to and how. If you wish to make changes, press the Go back button. Clients will need to have 'accept promos' ticked in their client card to receive marketing messages.

NOTE: Post messages
If you have selected Post as one of the delivery methods you will need to print these messages (or mailing labels). Go to the Reports tab and click on one of the following reports to do this:
Messages for Printing (1 per page) -

prints one postal message per page with the clients address located correctly for a standard window envelope.



Messages for Printing (3 per page)

- prints three postal messages per page in a post card format (three post cards to one A4 sheet). If using this format, message should be a suitable length to fit in the space available.



Mailing Labels - Messages

- prints a mailing label for each customer receiving a postal message that is suitable for a variety of postal items.