This guide covers how to measure appointment bookings and deposits completed on your Kitomba Online Booking page in the Google Analytics 4 (GA4) dashboard without having to set up "Conversions" or "Event" goals.
Google will stop collecting and feeding data to Google Analytics 3 properties on 1 July 2023. If you haven't already, you will need to switch to Google Analytics 4 (GA4) before this date to continue collecting data from your Kitomba Online Booking site.
How do I switch to GA4?
If you haven't already upgraded to GA4, you can follow this article to make the switch.
We highly recommend that you start the process to move your properties and in particular your booking page analytics to GA4.
How to access appointment Bookings and deposit completed data in GA4 Dashboard
If you are not sure on how to set up goals and events in Google Analytics but you still want to access the number of bookings completed on the Kitomba booking page, you can access this data directly from the Reports section of the Analytics dashboard.
To access this data:
Log in to your Google Analytics 4 account then click

Reports

.

Navigate to

Engagement

.

Click on

Pages and screens

.

Select a

date range

for the data with the date field on the right-hand top corner of the screen.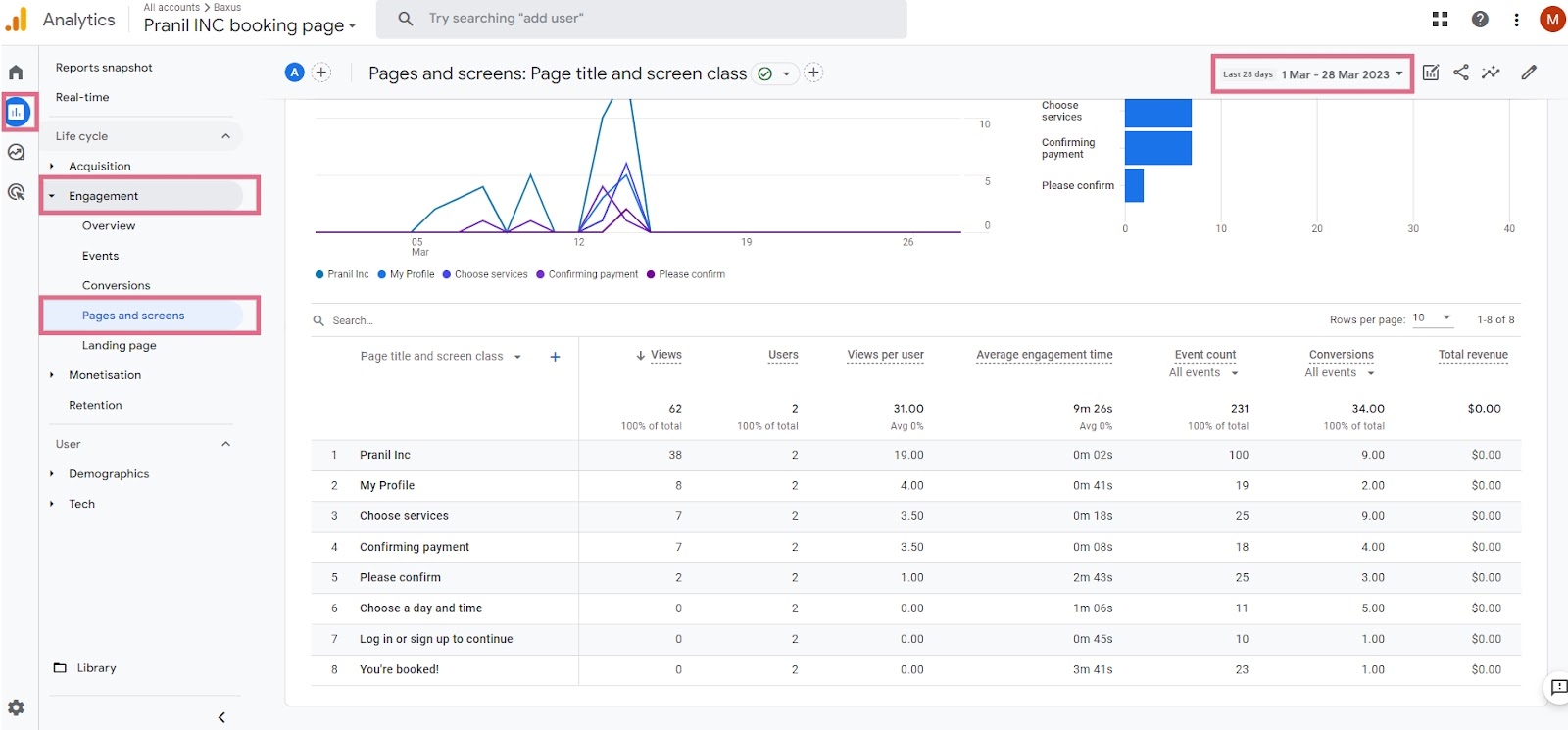 Kitomba 1 has specific titles for every page that the client accesses. The report appears as a table with page names listed in the Page title and screen class column, and the number of bookings is displayed in the Event Count column.
The booking completed page is named:

You're Booked!

The deposit page is named:

confirming payment

.
In this report, for a specified time frame 23 bookings were made and 18 deposits were made for a similar time frame.

In summary, you can access the number of bookings and deposits made without having to add additional "Conversion tags" or settings by accessing GA4's Title and Screen name table and events count feature.
If you would like to set up conversion events for your Kitomba Online Booking site in GA4, use the following guides:
How to set up GA4 conversions for Kitomba Online Booking Appointments
How to set up GA4 conversion events for Kitomba Online Booking Deposits