Sending out a text campaign in Kitomba 1 is a great way to market to your clients, plus you can create and send your campaign from anywhere, at any time, on any device.
To create the campaign
1. Log into Kitomba 1 and select the Marketing tab.

2. Select Text campaigns.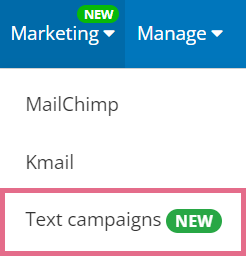 3. Select Create a text campaign.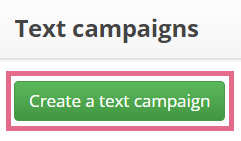 4. Choose who you are sending the campaign to. You can select All Clients or Create a list using the customisable filters that appear once this option is selected. If you have multiple locations, you'll be prompted to choose which location you want to send your text message to. Select Generate client list when you're done.

5. You will be shown the number of clients your campaign will be sent to. Clients must have a mobile number and agree to accept marketing messages. Compose your message in the Message Content box. You can personalize your message by inserting the client's first name using the Client's first name parameter below. Remember to include your business name in the template, you can do this easily by clicking the Business name parameter below.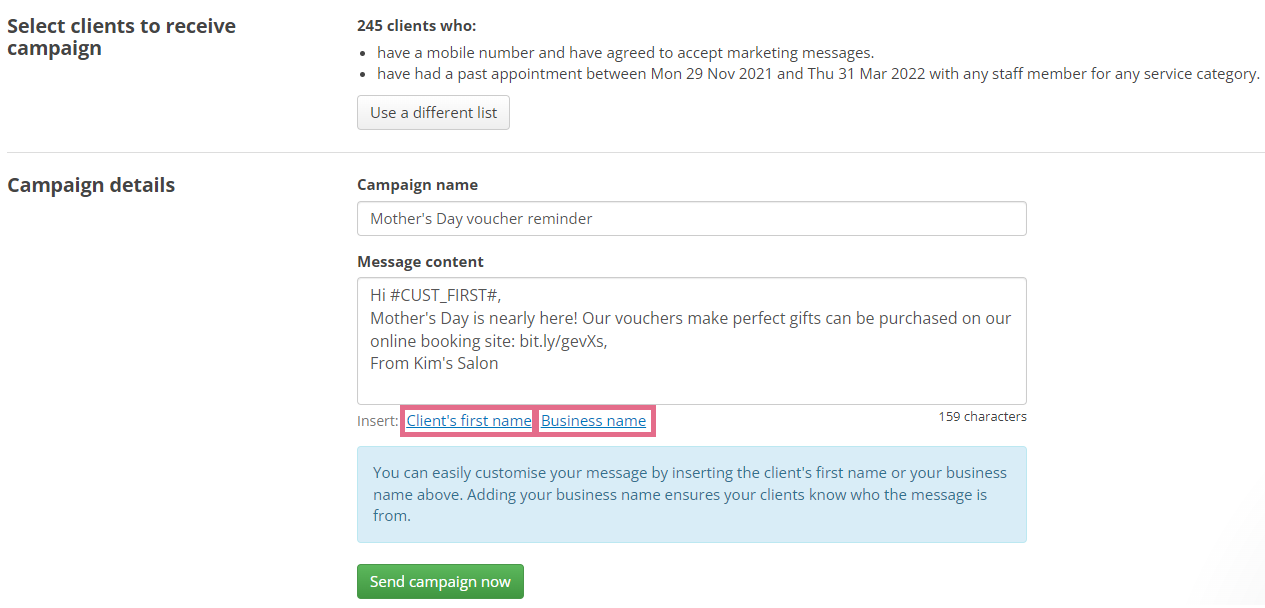 6. Select Send campaign now. This will send your campaign immediately.

If the campaign takes a while to generate you will receive a Notify me option. This means you will receive either a pop up on screen or an email notifying you when it is ready. You do not need to wait until it generates.
7. Once you have sent your campaign, you will be taken to the confirmation screen. From here, you can choose to Create another campaign, or Download summary of your campaign as a CSV file. Select Back to text campaigns to view past campaigns.

8. Your past campaigns are listed on your Text campaigns page, along with when the campaign was sent and how many messages were sent. Select View details on any campaign listed.

9. You are able to see the filters that were used, what message was sent and a list of recipients (which can also be downloaded).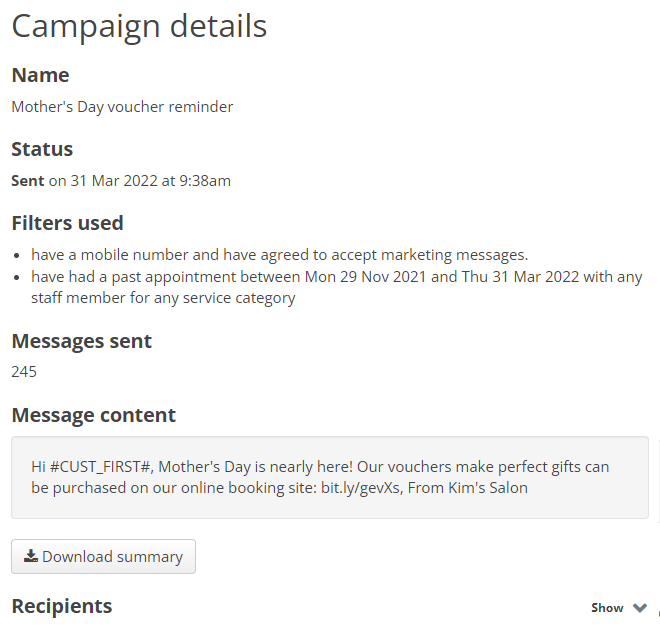 Please note:
1. Text messages have a limit of 160 characters. If you want to include your Online Booking link in the message, you may want to shorten the URL using a link shortener like bitly.com.
2. If your messages are on hold, you will be unable to create text campaigns. Please contact our support team to enable your messages.
3. It's a New Zealand Telecommunications industry requirement to inform message recipients that charges will apply when they reply to these messages. Please note, these charges are collected by the messaging service provider and not by Kitomba.
4. Replies can be viewed in your main Kitomba in the Messages tab.