The Admin tab is a place to set up and create the things that will be specific to your business.

The following screenshot displays the menu on the left hand side of the Admin tab.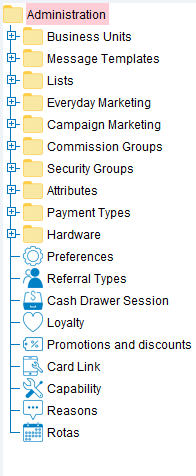 A brief description of what function each section performs:
Business Units
Manage your Business name and details, Business Leave (e.g.: Public Holidays), Contact details, Staff and seniority, Staff Leave, Timetables, Security, Commission


Message Templates
Manage your Marketing and Communication message templates. Each template you create can contain:


a Short Form of the message (used for SMS communication)
a Long Form of the message (used for Email, Post and Call communication). You can also provide a Subject (for Emails).


Lists
You can create and save Lists of your Kitomba Clients by running any of the following Kitomba Reports:


Client List
Client Retention
Client Spend
Clients who have purchased products/services
New Clients
Loyalty Details
Referral Summary
Referrals - client detail
These Lists can be used to form the basis of a targeted SMS or Email Marketing Campaign or to generate Mailing Labels.
You can Print, Export (to Excel), Edit (remove Clients from the List), Add (Clients to the List), Save or Delete any List you create.


Everyday Marketing
Kitomba's Everyday Marketing system allows you to create and manage automated, repeating event based Marketing Campaigns.

Marketing Campaigns you can create include: Birthday wishes, Referral thanks, New Client, information, Post Appointment follow-ups, Post Purchase follow-ups for specific Products or Services, or Categories of Products or Services


Campaign Marketing
Kitomba's Campaign Marketing system allows you to create and manage one-off Marketing Campaigns.

Contact your whole Client base to notify them about new Products, Services and Staff in your Salon; or send a quarterly Newsletter.

Incorporate a Kitomba List to target only the Clients you intend to.


Commission Groups
Manage Commission Groups and Plans for your Staff.

You can create as many Groups as you need to. Each Group (e.g: Senior Staff) can contain multiple Plans (e.g.: Service Plan, Retail Plan)


Security Groups
Manage group-level security permissions for your Staff, allowing you to limit who can access what.


Attributes
Attributes allow you to customise the information you store in Kitomba. You can create custom Client, Appointment and Record attributes.


Payment Types
Manage your Payment Types - e.g.: EFTPOS, Cash, Visa etc. There are two kinds of Payment types you can create:


Bank - payment types that you would expect to end up in your Bank Account e.g.: EFTPOS, Cash
Non-Bank - payment types that would not end up in your Bank Account e.g.: Voucher, Bartercard


Hardware
Configure certain hardware components to work with Kitomba.


Preferences
Set up your defaults for: Appointment Messages, the Kitomba Calendar, Client Card (required fields), Invoicing, Reporting, Security, Star Clients, Stock, and Wages 


Referral Types
Manage entries in the Client Card Referral list 


Cash Drawer Session
Manage (start and stop) cash drawer sessions


Loyalty
Manage and customise your Kitomba Loyalty programme. Determine how many K$ your Clients earn and how they can be redeemed.


Promotions and Discounts
Streamline Discounting at POS time by creating predefined Discounts and Promotions.


Card Link (if available)
Manage eftpos terminal integration.


Capability
Manage capabilities for your Staff, Rooms and Equipment.

Allows the Kitomba to provide a warning if you attempt to make an appointment with a Staff member that is not capable of performing the selected Service.


Reasons
Manage reason lists for: Petty Cash, Leave, Custom Time


Rotas
Manage Staff Rosters.

Create from scratch or copy another Staff members roster as a starting point. Block time for regular events - like Staff Meetings, TAFE or Training - by using Custom Time blocks in your Staff rosters.