It's common for businesses to be closed on holidays like Christmas Day, Good Friday, and New Year's Day, which may lead to your entire team taking leave. Kitomba makes it easy to set up business leave, automatically updating all staff timetables to ensure that your Kitomba calendar accurately reflects these days off. This guide covers how to set up business leave for multiple locations in Kitomba 1.
1. Accessing Business Leave Settings:
Go to the Kitomba 1 dashboard and click on the

Settings

button.

On the left-hand side of the page, locate and click on the

Business Settings

option.

In the expanded settings menu, select

Business leave

.

2. Adding Business Leave:
Now you're on the Business Leave settings page. If you have an enterprise account with multiple locations, you'll notice a

Location dropdown menu

that allows you to view and add the business leave for each location.

To add a new business leave, click on the

Add leave

button.

The locations available for your staff to access will depend on their K1 access settings.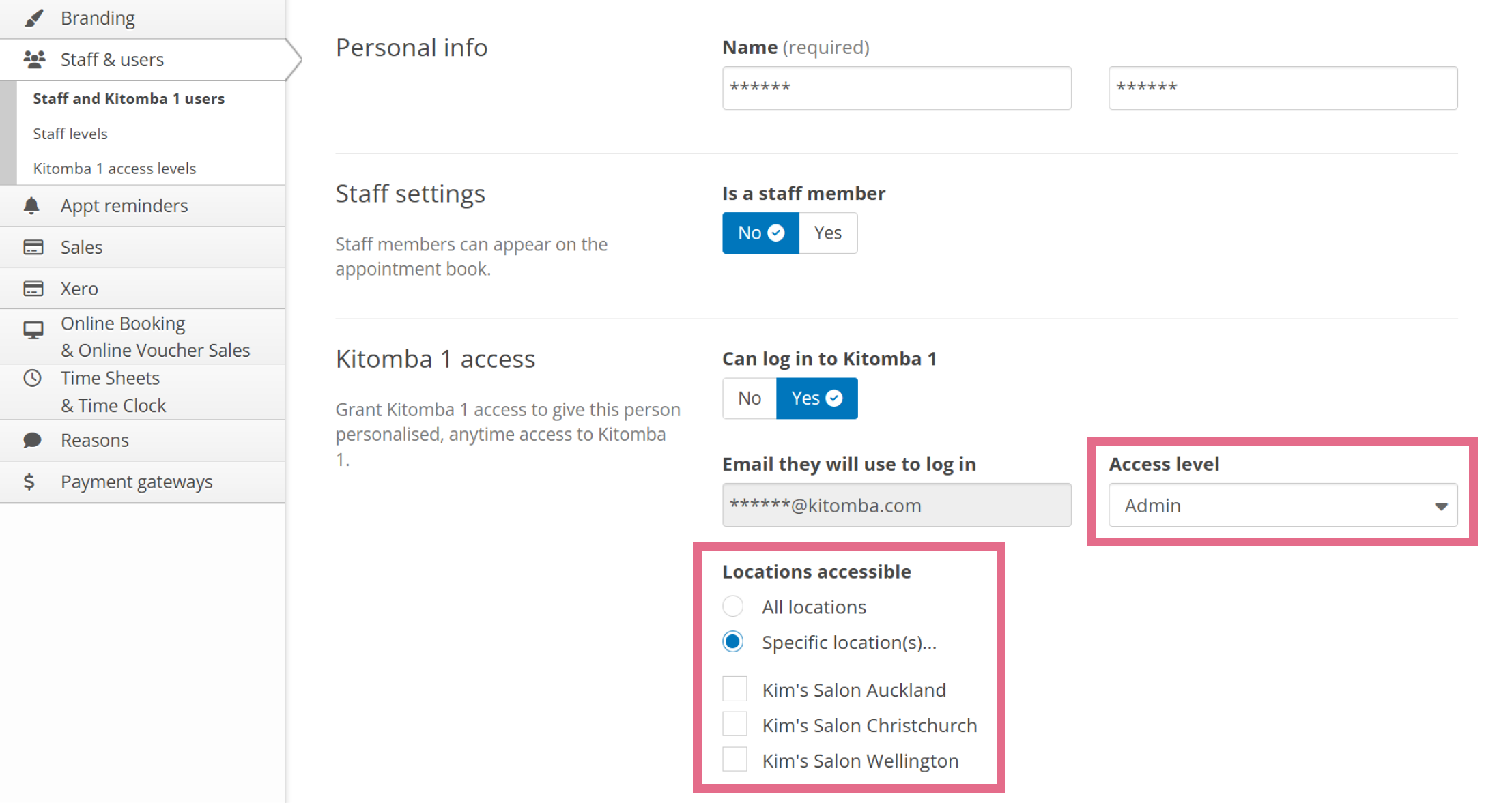 3. Setting Business Leave Details:
In the pop-up window, click on the dropdown menu to select the locations you would like to apply this leave to. In this example, we will choose

All locations

.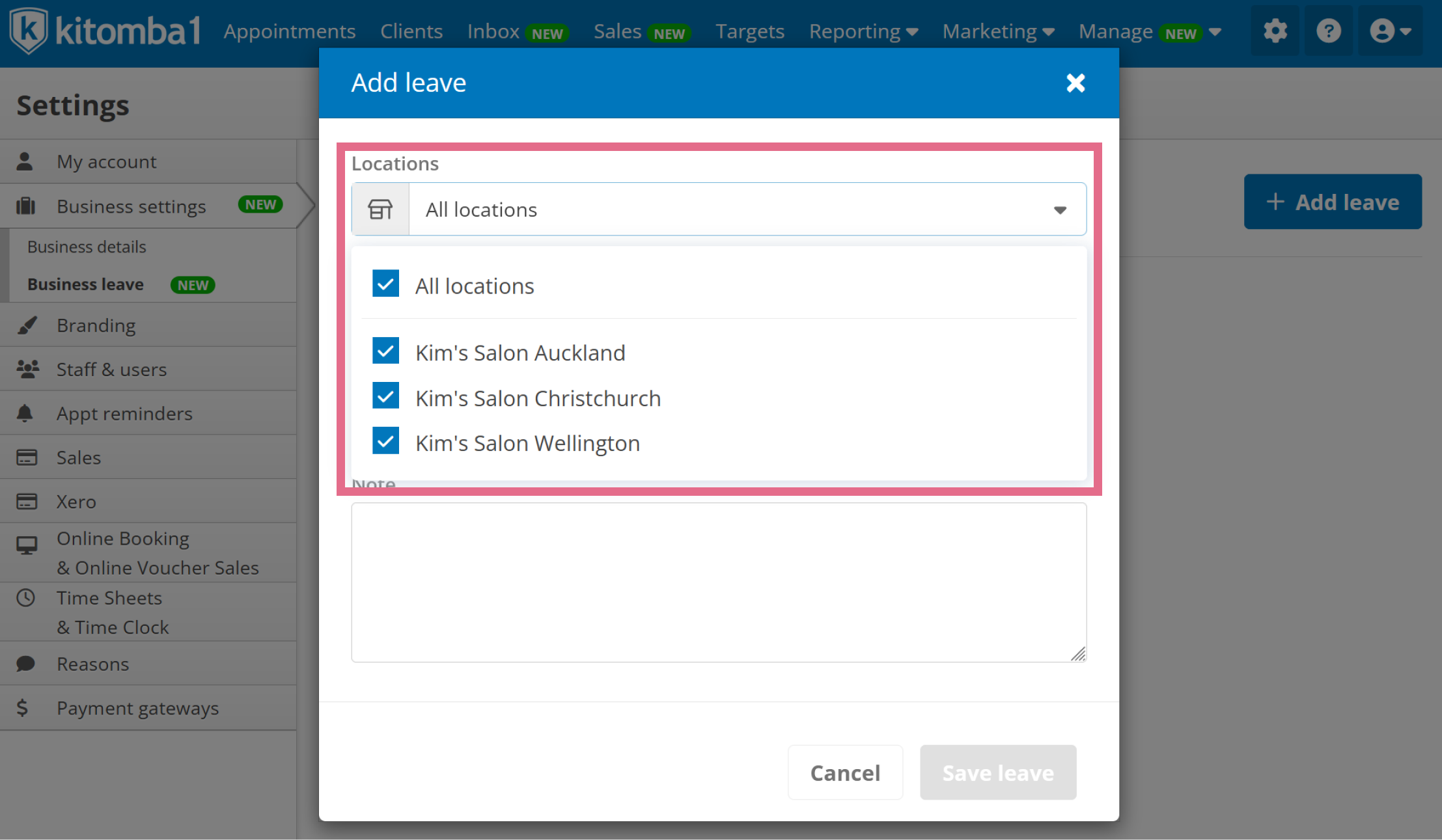 Specify the

start

and

end

dates for the leave.

Select the

reason

for the leave from the available options.

Optionally, you can use the

Note

field to include additional information. For instance, you can add notes like

Closed for Christmas Holidays

.

Once you've filled in the required information, click on the

Save leave

button to confirm.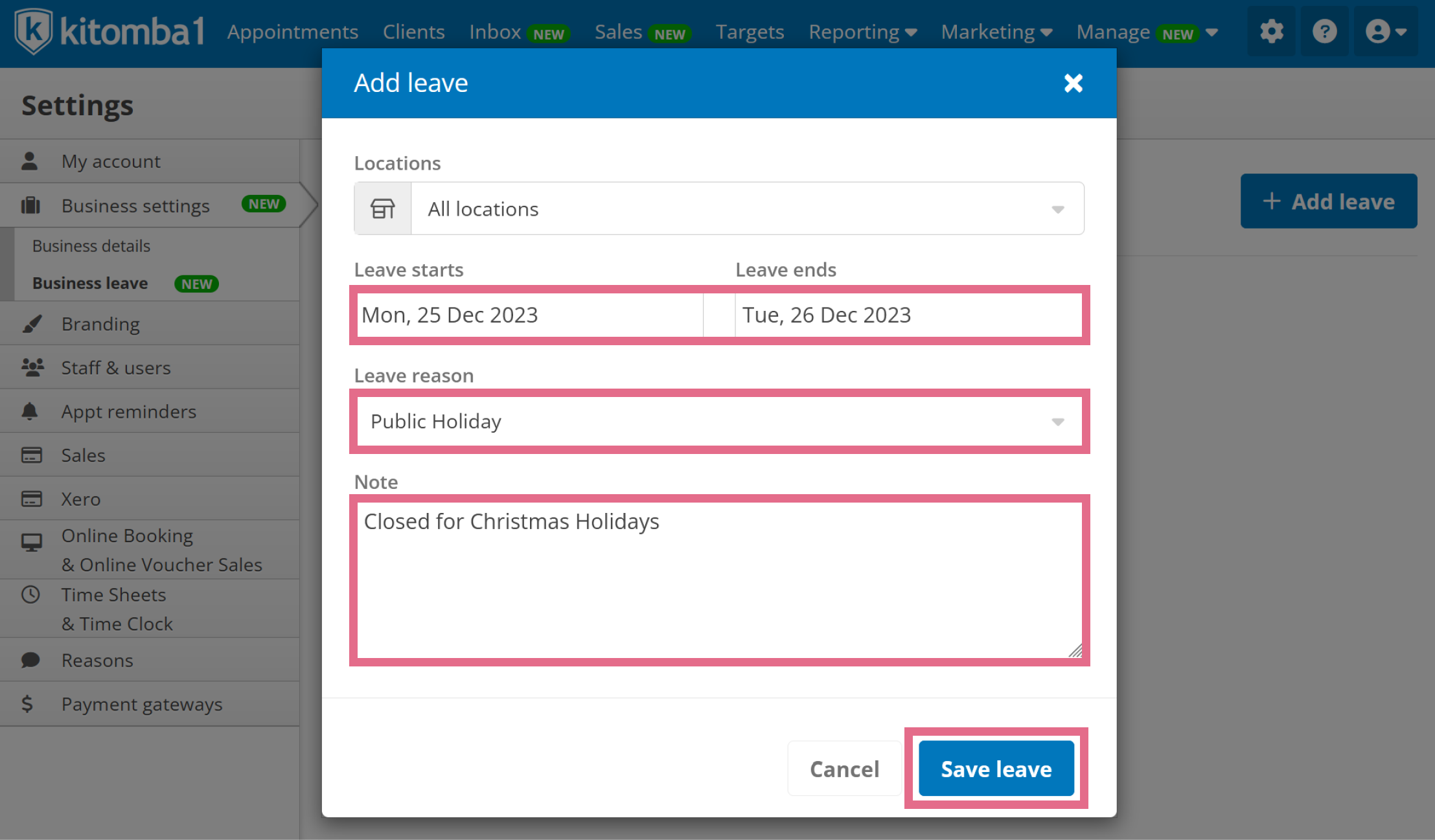 Now, the business leave has been created for all the selected locations.

Your team's leave during holiday periods will be accurately reflected in their schedules.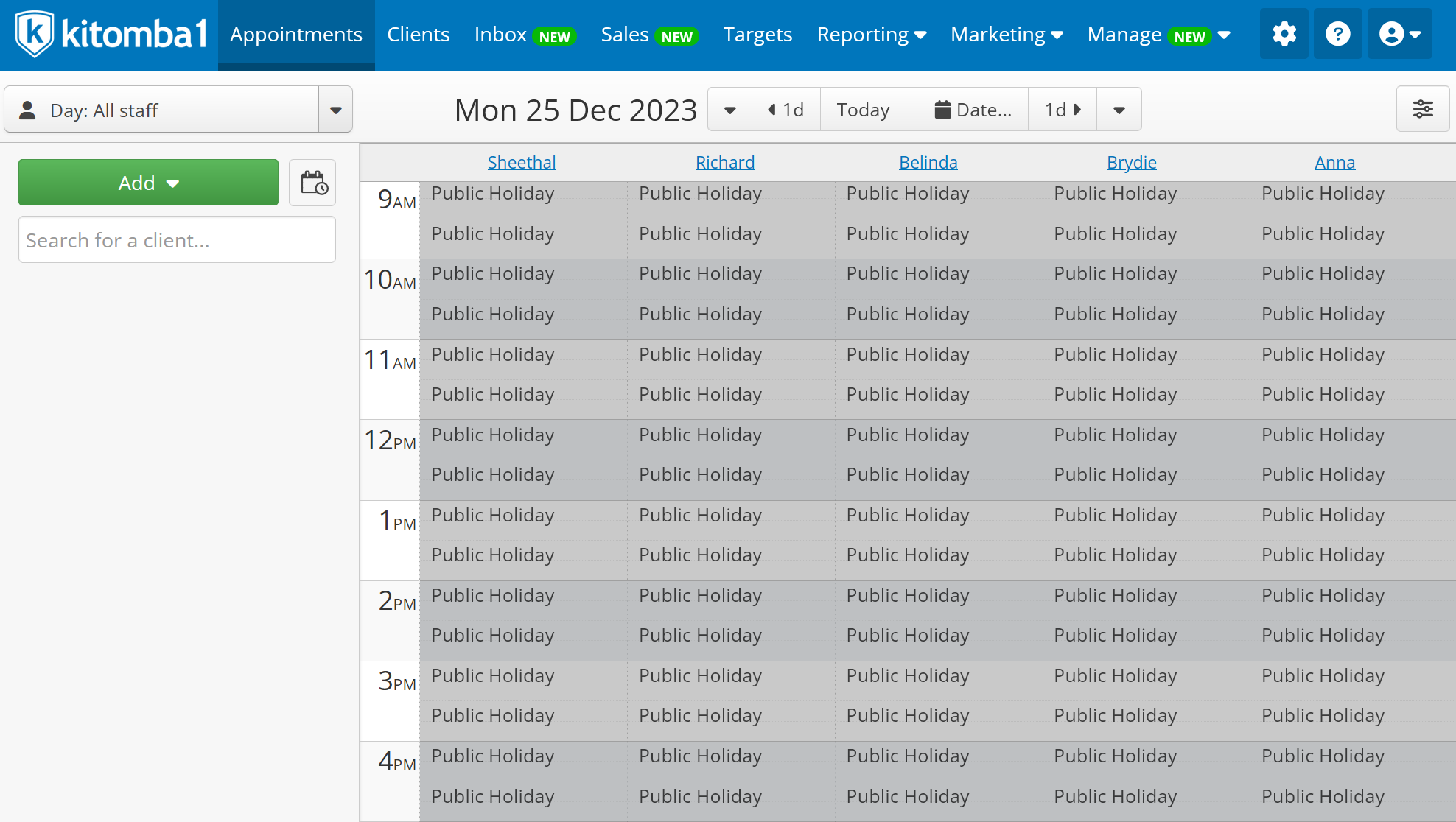 4. Edit or Delete Business Leave:
To make changes to an existing leave, select the

location

from the dropdown menu.

Click on the

blue right arrow

icon next to the leave.

This will take you to the editing window, where you can modify the leave details. After making your changes, click the

Save leave

button to update the leave.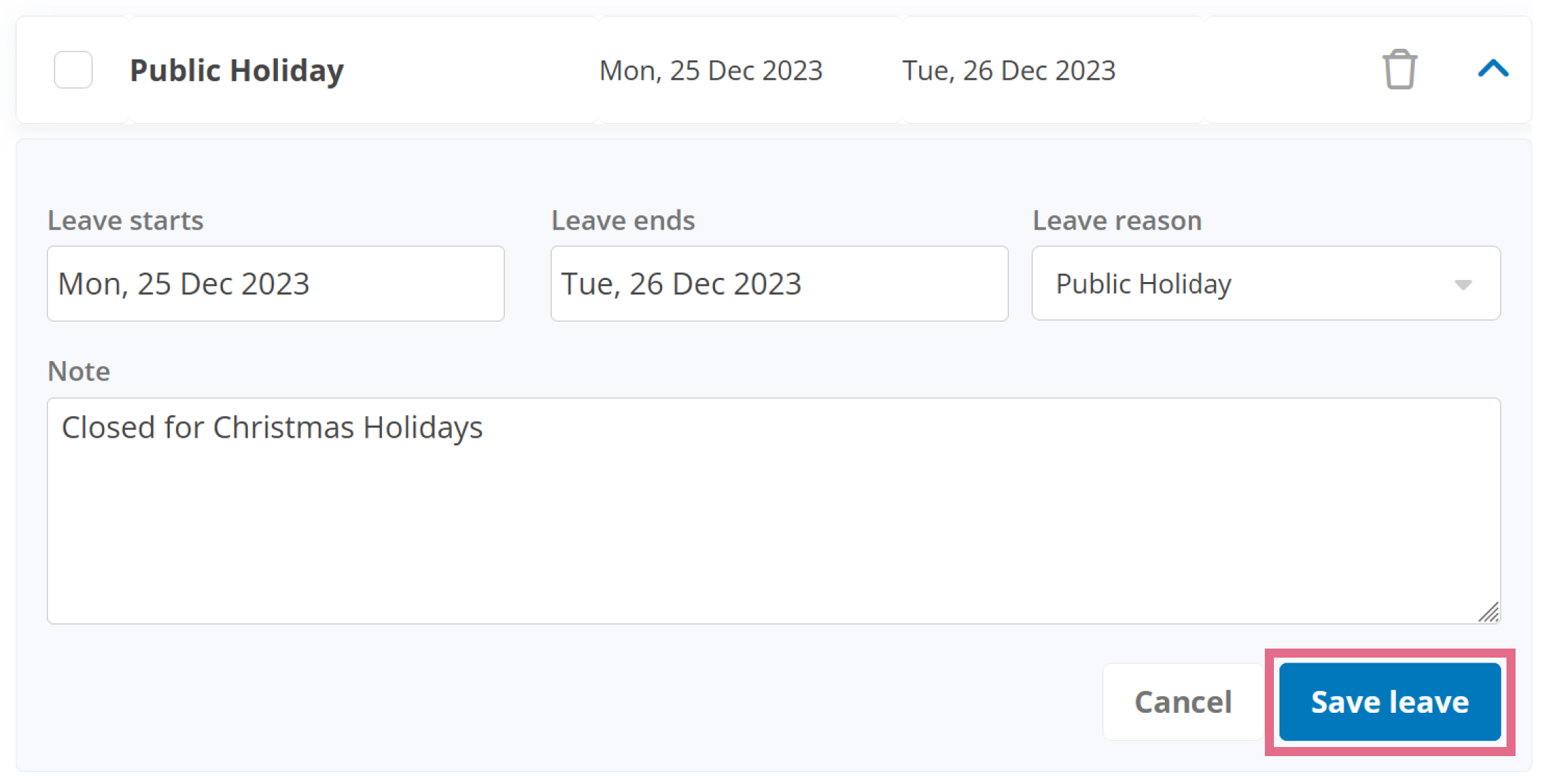 If you need to delete the leave, click on the

rubbish bin

icon.

Then confirm the deletion by clicking the

Yes, delete

button.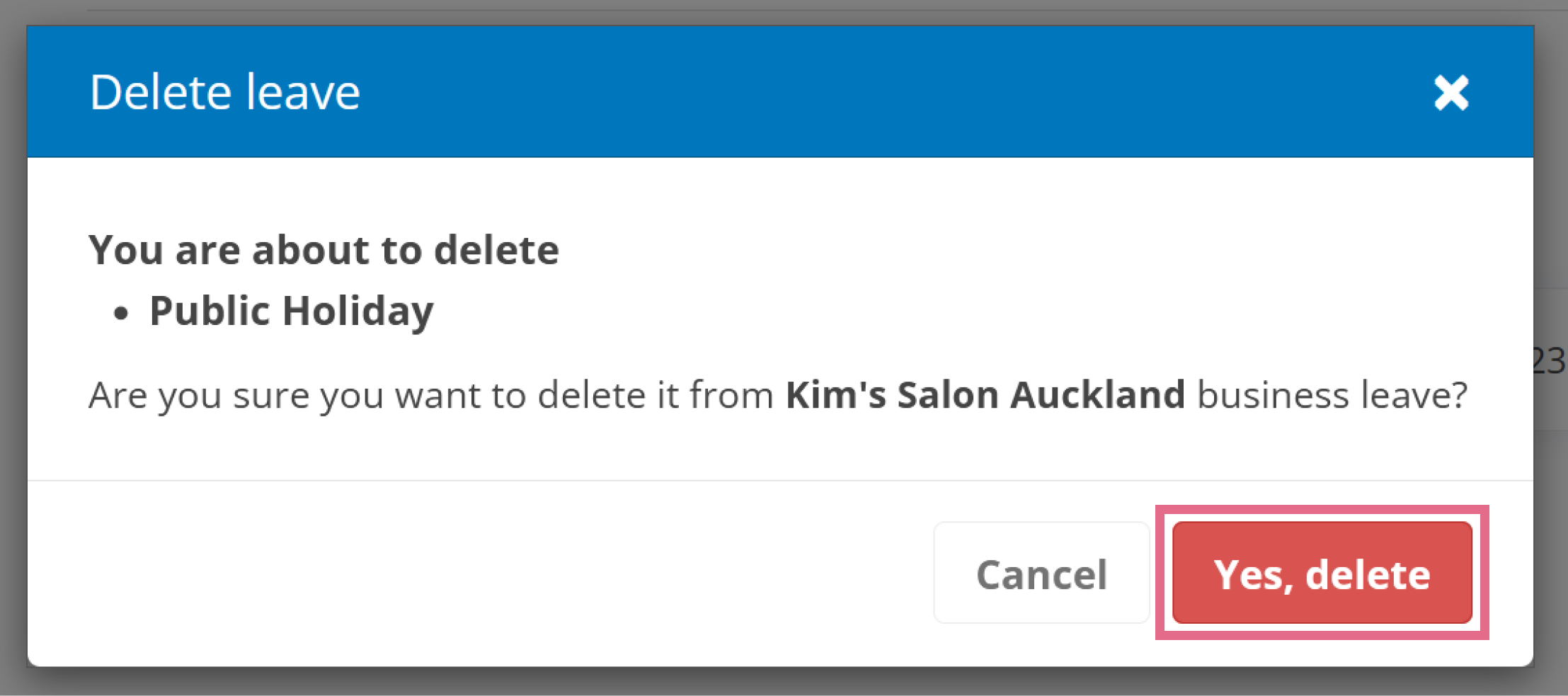 That's an overview of how to set up business leave for multiple locations in Kitomba 1. View our support guides to learn more or get in touch with us.