There are different types of people in your business - owners, managers, staff, even accountants, and to accommodate these we have designed a range of different security access levels.

You can provide your users with the access they require, while being confident that your data is safe!
This picture shows the levels and what each level can do. e.g. a Limited user can add and edit clients, see their own targets and their scoreboard, and view the appointment book.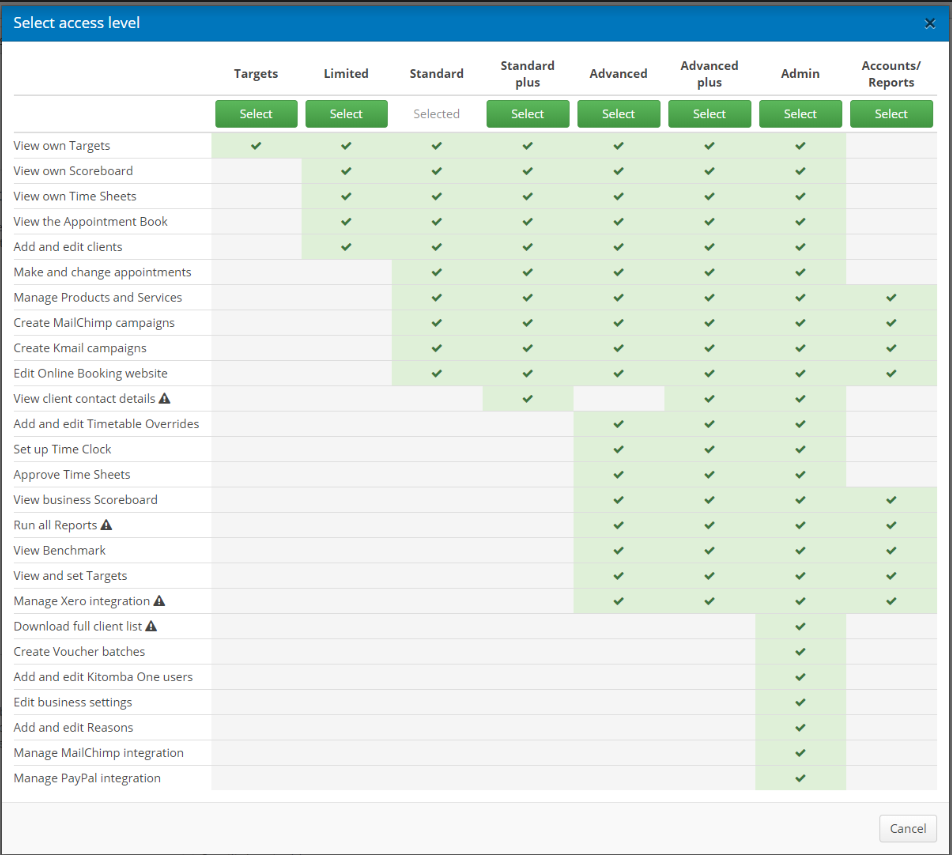 Note: there must be at least one user per business with Admin access. 
Setting up a new User
You can create staff or you can add a user who is not staff to have access to Kitomba One as well. This could be your accountant or your Graphic designer etc. 
1. Go to the Settings tab and select Staff and Kitomba one user button.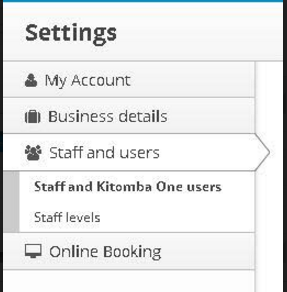 This will provide a list of K1 users and staff that have been added to Kitomba One previously. Whether they are staff or a Kitomba One user will be indicated under Type. In some cases they will have both against their name. This will also show their K1 access level and when they last accessed K1.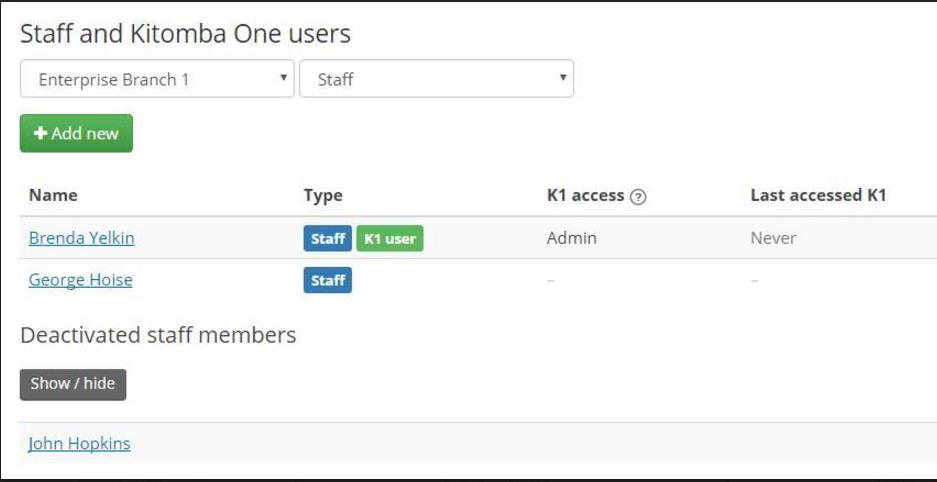 2. To create a staff member or user select the green +Add new button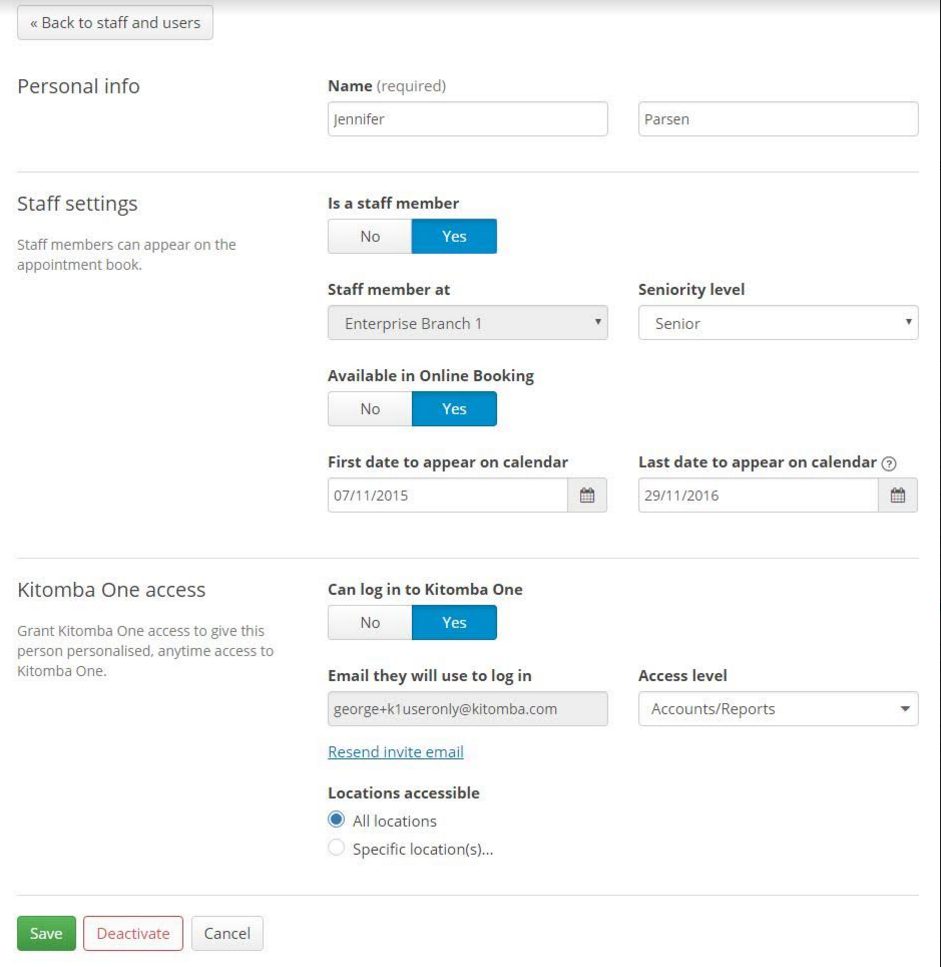 3. Complete the fields in the personal info sheet.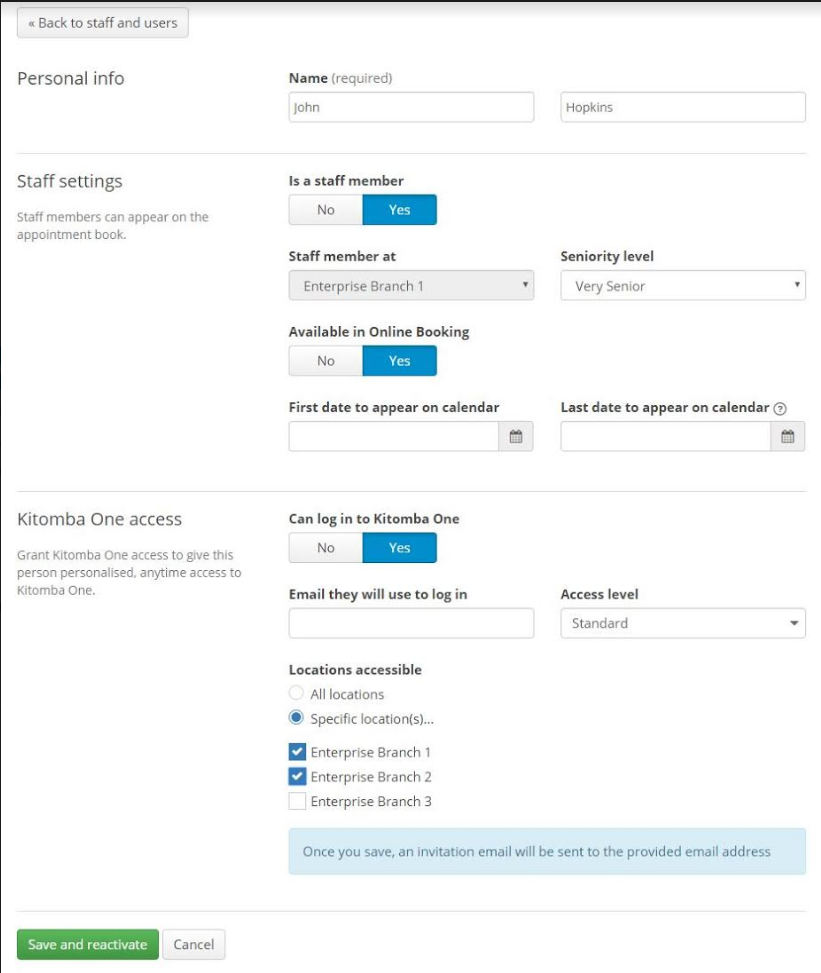 4. Select the Save button
To add access to Kitomba one
In the bottom half of the personal info sheet you can choose whether to allow access to Kitomba one or not. 
We recommend you allow your staff at least Limited access as this will allow them to view their own clients and targets for the day/week. 
1. Select the options you require. If you are a multi site salon you can enter the locations that are accessible for this person here. 
2. select the Save button.
Once you save, an email will be sent to the provided email address.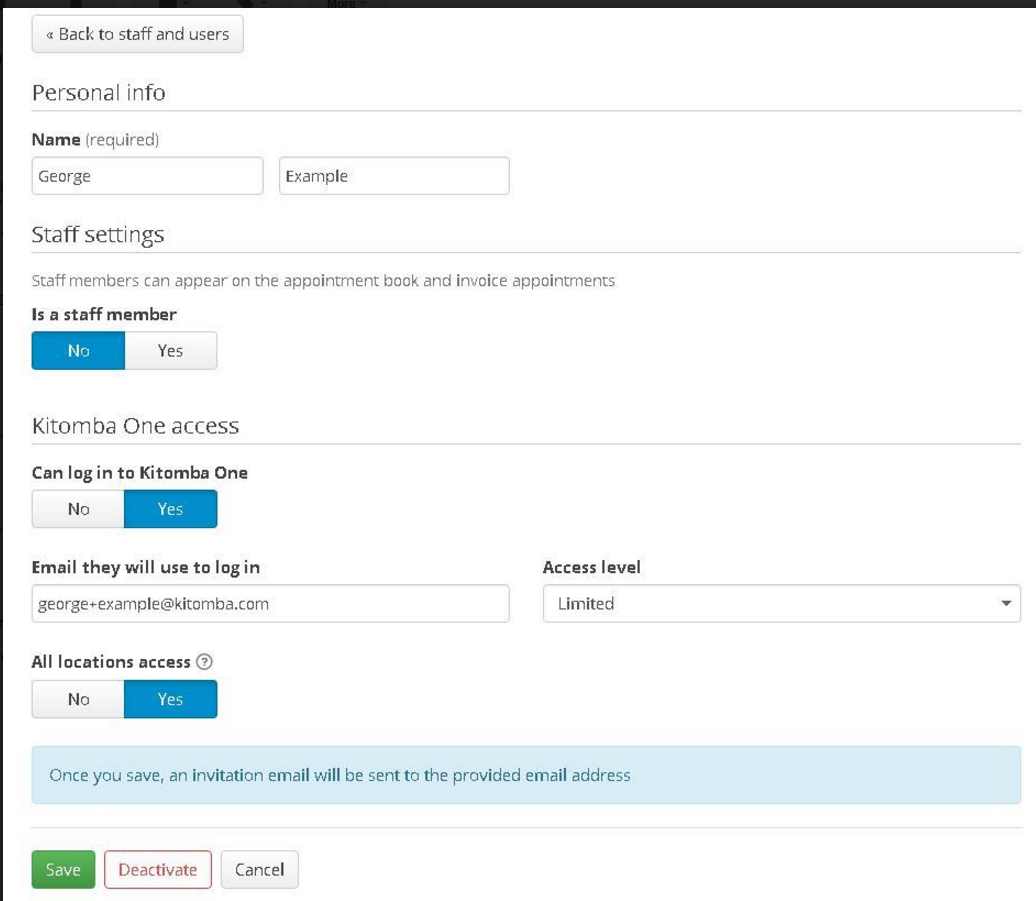 Note: If you change your K1 password you'll be logged out of any other sessions that are open under the login.
Deactivate staff
1. Select the staff member and select the Deactivate button

The deactivated users will be listed at the bottom of the page when you have the filter set to staff.
You can hide or show the deactivated users by selecting the Show/hide button.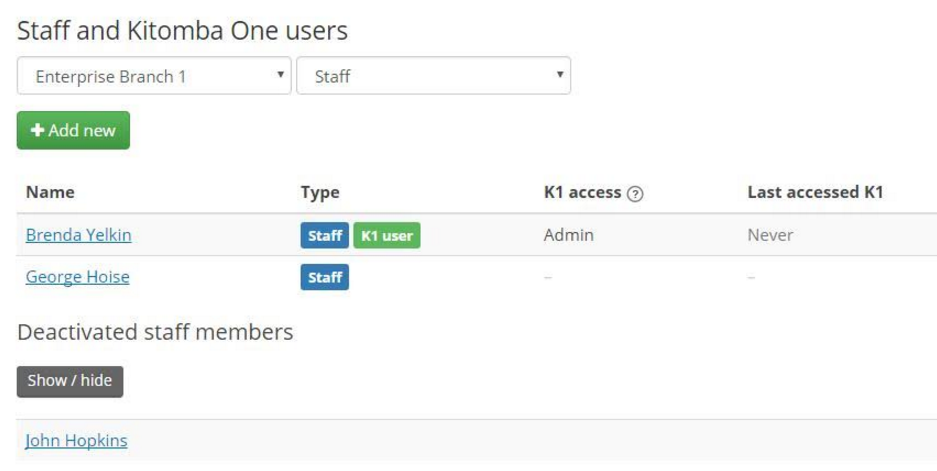 Reactivate a user 
1. Select the user from the deactivated list and update their personal information and Kitomba one access level if required.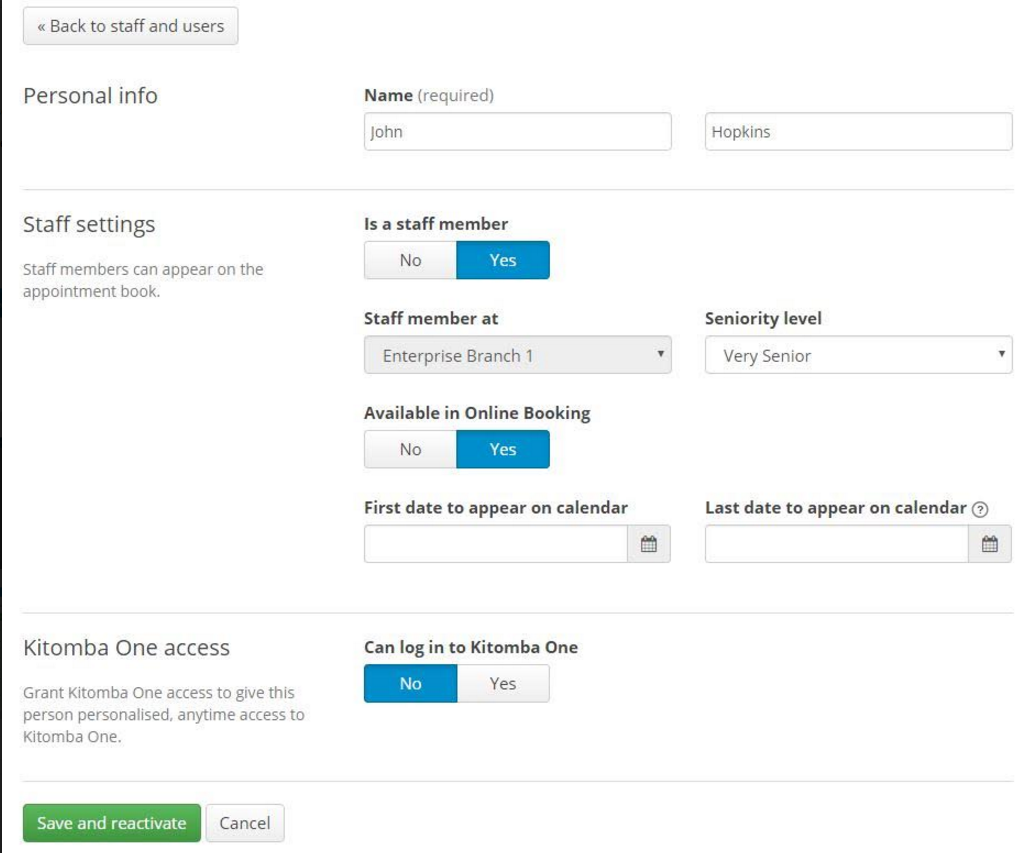 2. Select the Save and reactivate button.
Adding a staff member to an existing K1 user. (Linking)
1. Select the K1 user you wish to edit.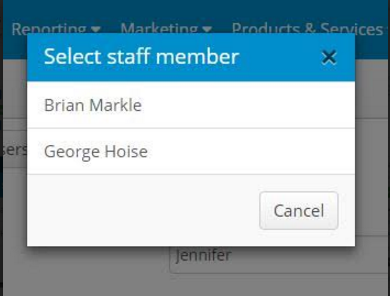 2. Select yes for Is a staff member
You will then be asked to choose an existing staff member or create a new staff member. 
3. in this case select Yes choose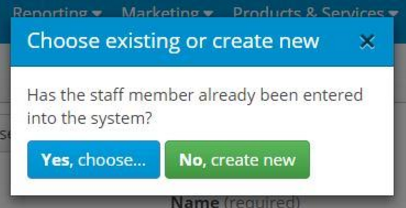 4. If you are part of a multi site business you will be asked to select a location.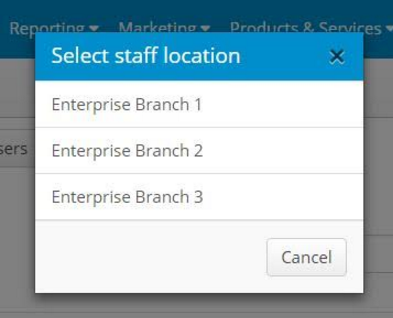 5. If you have selected a location you will see the select staff member list.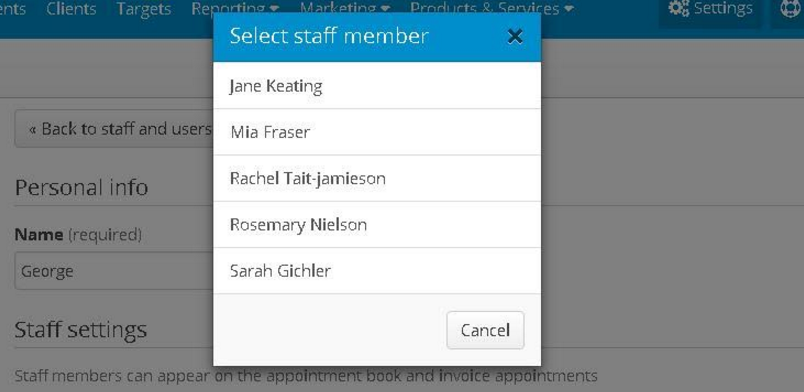 6. Select the staff member you wish to link to the K1 user you have been editing. 
This will populate the details of this staff member into the staff settings fields. 
7. Select Save.