Currently this feature is available to a limited number of Kitomba customers only.
Staff clock in and out of Time Clock each day, which creates Time Sheets for your approval. You can then download the Approved Time Sheet report which details this information and then import it into your payroll system making the process faster and easier.
1. Go to Kitomba 1 and select the Reporting tab in the menu at the top of the screen.

2. Select Reports and the Approved Time Sheets report in the Staff section.

3.  Choose the Date range you want to run the report for.

4. Select the Report options button to Show weekend working hours as required.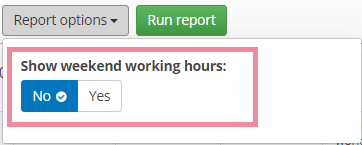 Note: For multi site businesses you can choose to view the report by location or by payroll ID. Viewing the report by payroll ID will combine a staff member's hours in one row if they work at multiple locations.
5. Select Run report.

6. Scan the All days are approved column for any crosses. A cross indicates that there is a Time Sheet in that date range that needs to be approved. If you process your payroll using the Approved Time Sheets report with a cross, you run the risk of paying staff incorrectly.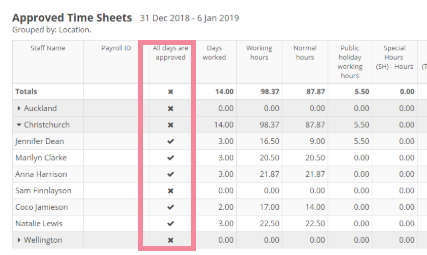 Once you're satisfied that everything is approved, and the hours look correct, you can download the report and import it into your payroll system.
Tip:
If you're seeing different times on your Approved Time Sheet report to what's showing in your calendar check that:
The paid Custom time reasons you're expecting to see have been set up to show on your timesheets (this is used by the Approved timesheets report).

You haven't made updates to your staff member's working hours, custom or leave time in their Timetable 

after

their Time Sheet was approved. The Approved Time Sheets report uses the hours approved on the staff member's Time Sheet, not

the hours on the staff member's timetable. If this is the case you can reopen the Time Sheet, this will retrieve any updates made to the staff member's working hours since it was approved, and then you can re-approve it.
 <<END>>