Currently this feature is available to a limited number of Kitomba customers only.
1. Go to Kitomba 1 and select the Reporting tab in the menu at the top of the screen.

2. Select the Reports tab and Payroll in the Staff section.

3.  Choose the Date range you want to run the report for.

4. Select the Report options to show weekend working hours or not as required.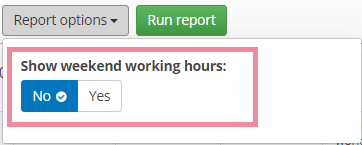 Note: For multi site businesses you can choose to view the report by location or by payroll ID. Viewing the report by payroll ID will combine a staff member's hours in one row if they work at multiple locations.
5. Select Run report.

 <<END>>