Some reports in Kitomba 1 require a lot of data to be located and can take some time. to assist you with these reports is the 'notify me' button. you can spend more time working on the important stuff, instead of waiting at your computer.

How does it work?
Run your report as usual
Select the report you want to run and specify the date range. However, if it's going to take a while to prepare your report, you'll get the option to be notified.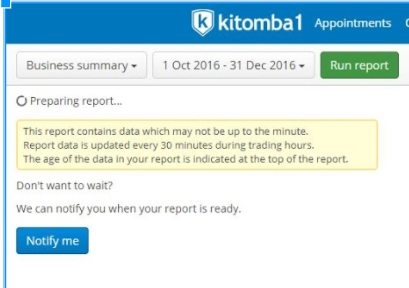 If you choose 'notify me', your report will continue to be prepared - even if you leave the reports tab or Kitomba One. That way you can get on with sending a marketing campaign or setting your staffs targets, while Kitomba does the work.
When your report is ready we'll:
Notify you with a pop up if you're still active in Kitomba One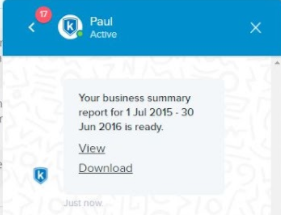 Or send you an email if you've left Kitomba One. 

Your prepared reports

Ready to view reports will show in the reports tab called 'ready to view'. Here you'll find all the reports you've run and chose to be notified about in the past 7 days.
When we notify you via a Kitomba One pop up or email, you'll have two choices:
View: we'll open the report for you in Kitomba One

Download: the report will download directly to your device
It will also show if there are any other reports still being prepared.