The Business Summary Variance report in Kitomba 1 enables you to directly compare two specific date ranges for your Business Summary report figures in one report. This allows you to easily make comparisons and see the difference in percentage change for your chosen KPIs, such as rebooking rate, average client spend, service sales, appointment retail sales and more.
Filtering and running the report
1. Log into Kitomba 1 and select the Reporting tab, then Reports.

2. Select the Business summary variance report.

3. If you are an enterprise customer, select the Choose report filter and select whether you want to view by branch or by staff.

4. Select the Choose date comparison filter. You can use a predefined filter or select a custom date range. When choosing a custom date range, the filters will automatically adjust based on your selection of date, week, month, quarter or year to provide a relative comparison.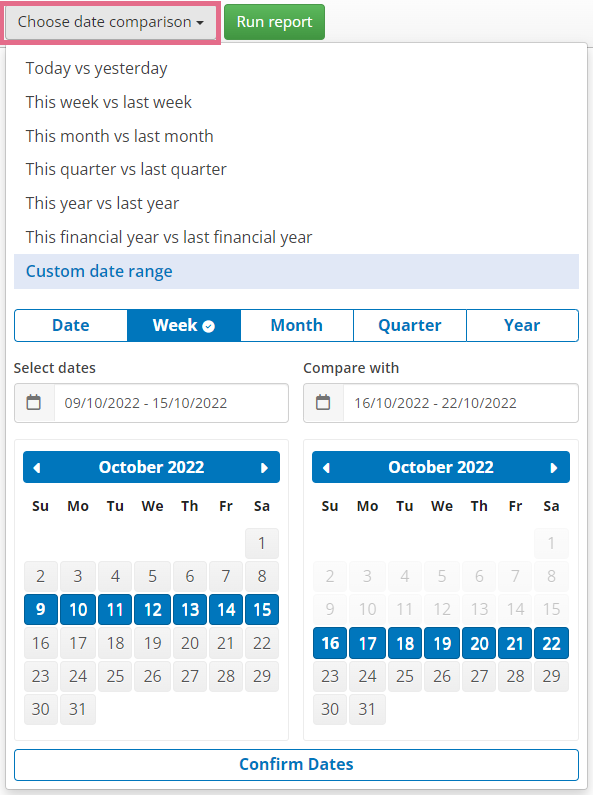 5. Select Run report.

6. The report generates the KPIs that you have selected in your Kitomba 1 Business Summary and will also include additional columns where you will see the original figures, comparative figures, and the percentage change (increase or decrease) which is colour coded so you can easily see the difference. Green indicates an increase, while red indicates a decrease.

7. You can print the report or export it to a spreadsheet if you wish.

Who can use the Business Summary Variance report?
The Business Summary Variance report is available in Kitomba 1, which means Platinum and Diamond customers can access this report. For your security, staff must be granted permission to access this report.
To have access to the Business Summary Variance report, staff will need to be allowed to "Run all reports" under the 'Reporting' section of Kitomba 1 access levels.