Removing an Invoice from a Customer's Record and from Kitomba is something that should be given careful consideration (see below), and Kitomba Administrators are advised to restrict this permission to the Security Groups used by senior staff.    
Adjusting or deleting an invoice that includes Products will not necessarily adjust Stock on Hand. If you have made a mistake with an invoice, consider whether you can correct it or whether it would be better to raise a credit note.  
To correct or delete a committed invoice
1. Click on the Cards Tab (1).
2. Select Manage Clients and enter the customer's name and click Search (2).
3. Double click on the Client's name to show appointments and invoices. If the invoice is for an appointment, select the appropriate appointment and double-click again to show the invoice (3).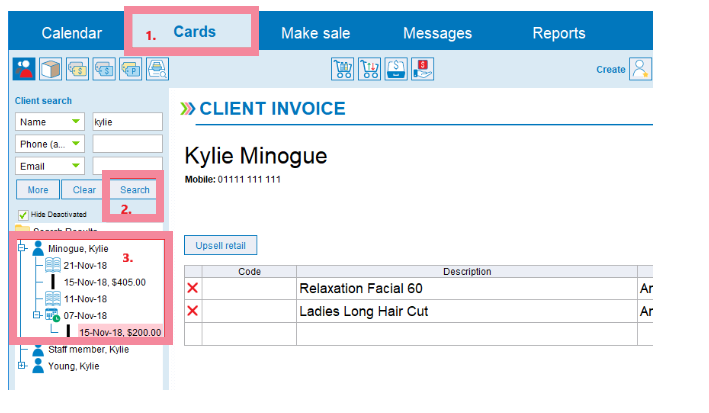 Option 1: to make a simple correction to the Invoice
1. Correct the details in the invoice
2. Select Commit. 

Option 2: to correct the Invoice by adjustment
1. Discount or remove the entry on one or both sides of the invoice  e.g. set the invoice to $zero paid -
2. Select Commit.  
Use the comments section of the Invoice so that anyone else who looks at the invoice can tell why you have done this.
If the invoice was for an Appointment, remember to amend the Appointment status (see below).
For example: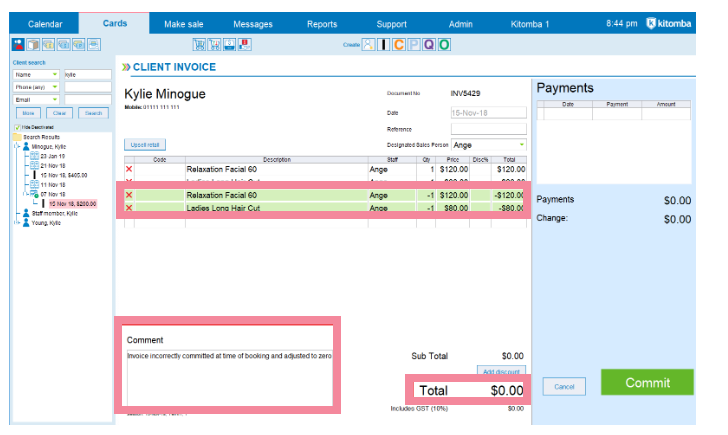 Option 3: Removes the invoice completely from Kitomba
When you Delete an Invoice, the invoice can not be seen or reactivated in the future - the Invoice number is removed from the sequence of numbers. 
NOTE: If the business is audited at any time, the auditor may query why the Invoice number is missing.   
1. To delete an invoice select the Invoice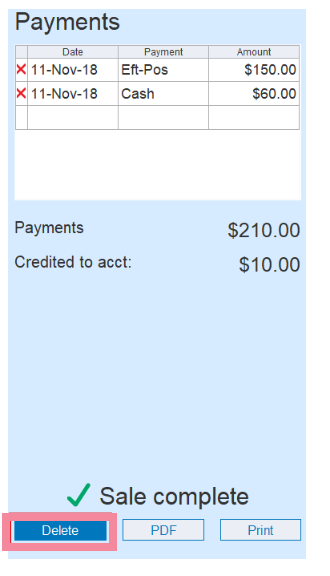 ​



2. Confirm that you want to delete the invoice - respond "yes" and the invoice will be deleted: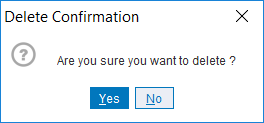 ​

If the invoice was for an Appointment, the details will now be visible - change the Status of the appointment from "Completed" back to the correct status.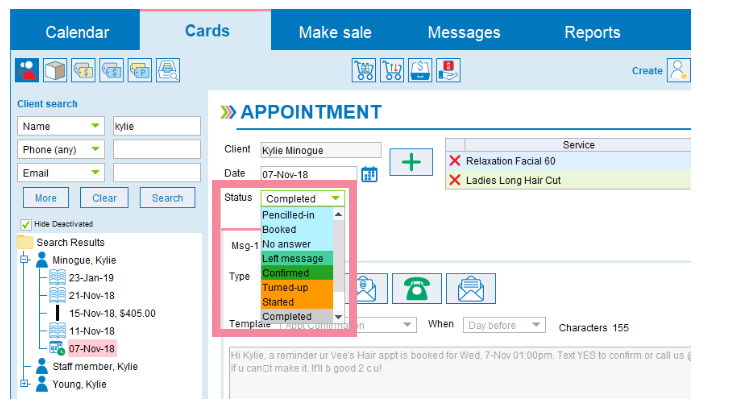 3. Select Save.
​
4. If you Search for the un-invoiced appointment it will look like this: