1. To create a client list that you can use for marketing go to the Client tab in the top navigation bar for Kitomba 1
2. Select the Client lists button.

3. Either download a full client list or create your own filtered list by selecting the appropriate radio button.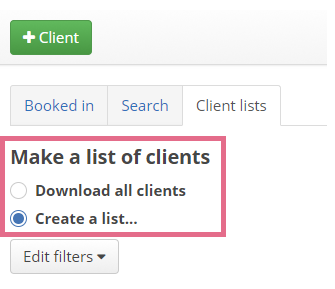 4. If you select Create a list you can then edit the filters as you require.

5. Once you have selected the filters, select the Generate Client list button. This will then provide you with a list.
Note: If the list is going to take a while to generate you will receive a notify me option. This means you will receive either a pop up on screen or an email notifying you when this list is ready. You do not need to wait until it generates.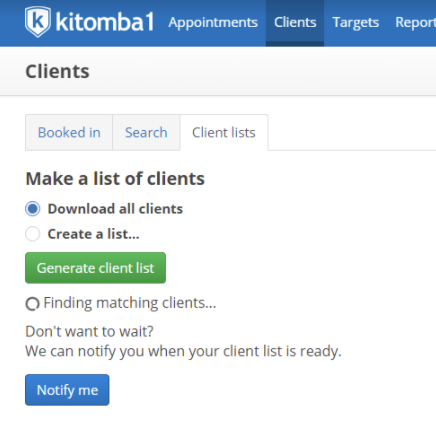 6. Once the list is generated you have the option to Create a campaign or Download the list.

Download will provide you with a spreadsheet that you can filter further.
Create a campaign will take you through to the pre mail chimp set up page.

7. Enter in your campaign details and select Continue button
You will see a Sending to mail chimp message.

8. Select the Proceed to Mailchimp button. This will take you to the Mailchimp log on screen.
<<end>>